It's 2021 and we are all obsessed with Instagram. Whether it is our favourite food, our most-visited shopping destination or the most memorable road trip of our lives, if it is not on Instagram it did not happen. Instagram is definitely the go-to social media everyone uses these days. Thanks to the lifestyle influencers, fashion and food bloggers, everyone has lately been trying to ensure they get that aesthetic look on their Instagram feed. Featured Image [via IG@noorayh_].
The Most Instagrammable places of Lahore
For anyone who is in Lahore, looking for some artsy, Instagram-worthy content, here is a list of 13 places you need to visit.
Caution: These places are so ridiculously Instagrammable that you won't even need a filter.
1. DEJA by Khadija
Tucked away in a quiet housing society is this uber-chic, bakery-cum-café painted in hues of pink, gold, grey and black. Visitors are ushered to a decent arrangement of gold-tinted wrought iron furniture gleaming in the broad daylight filtering through the huge glass windows. From the clipboards nailed to the blush-coloured walls to the silver floral stencil on the smoke-grey walls, this Parisian patisserie looks straight out of a Katy Perry video. Not to forget the delicious, artistically plated food, that is equally Instagram-worthy.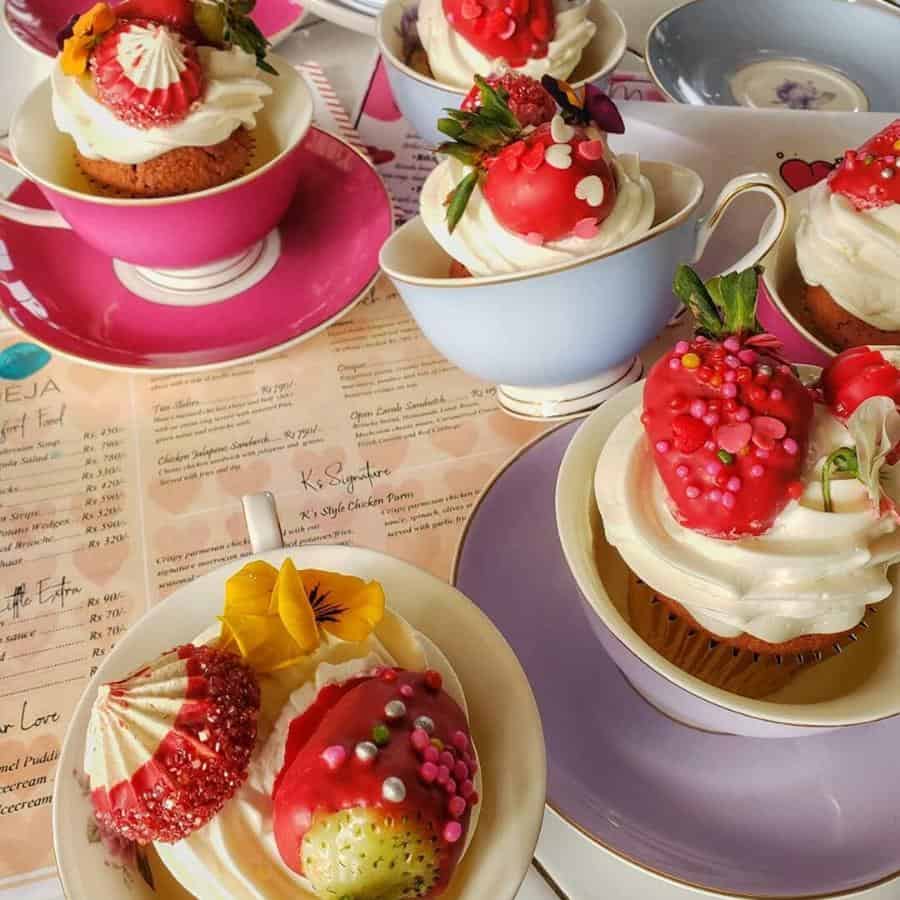 2. Maribelle
Quickly search the hashtag #maribelle on Instagram and your page will be instantly flooded by hues of pink and roses. From the quilted, velvet seats, to the minimalist walls, the delicate cutlery and delicious desserts, Maribelle is a luxurious statement of femininity and French, all wrapped in pink. One of the two most Instagrammable features is the baby-pink telephone booth, which totally has a 'Proudly Pink Barbie Doll meets Doctor Who' vibe. The other, and probably the first thing that will catch your eye is a stunning, over-the-top flower wall curtained with beautiful rosettes and the quote 'Adventure Awaits but First Dessert' shining on it. One snap of that breathtaking wall on your Instagram and you will have more likes than the number of flowers on it.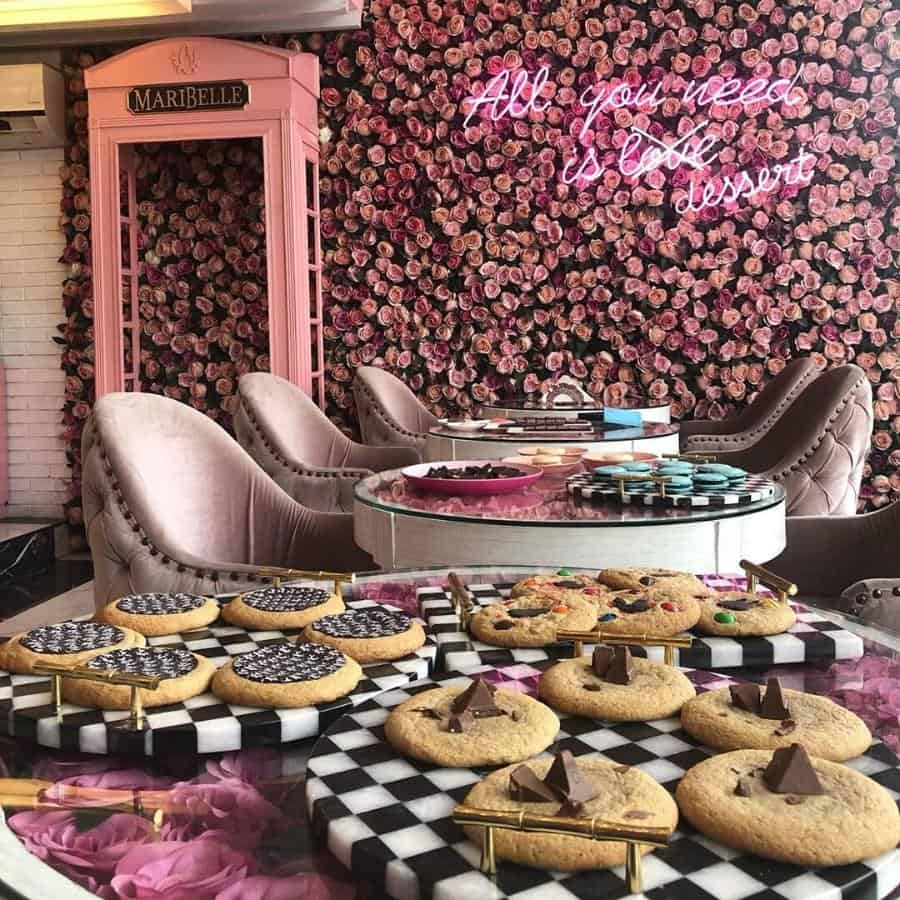 3. Coco Cubano
Celebrating the loud, exotic and vivacious culture of Havana, is a trendy Cuban inspired, Australian café located in the heart of Lahore, amidst the roaring traffic of the M.M. Alam Road. The bright teal interior, crawling with South-American street art, the ostentatious use of plants and floral arrangements and the rustic wooden booths paint a perfect Cuban portrait. For your next Instagram story, do not forget the ornamental Vespa parked in the lobby or the artsy showcase of vintage Cuban items on a large black shelf case.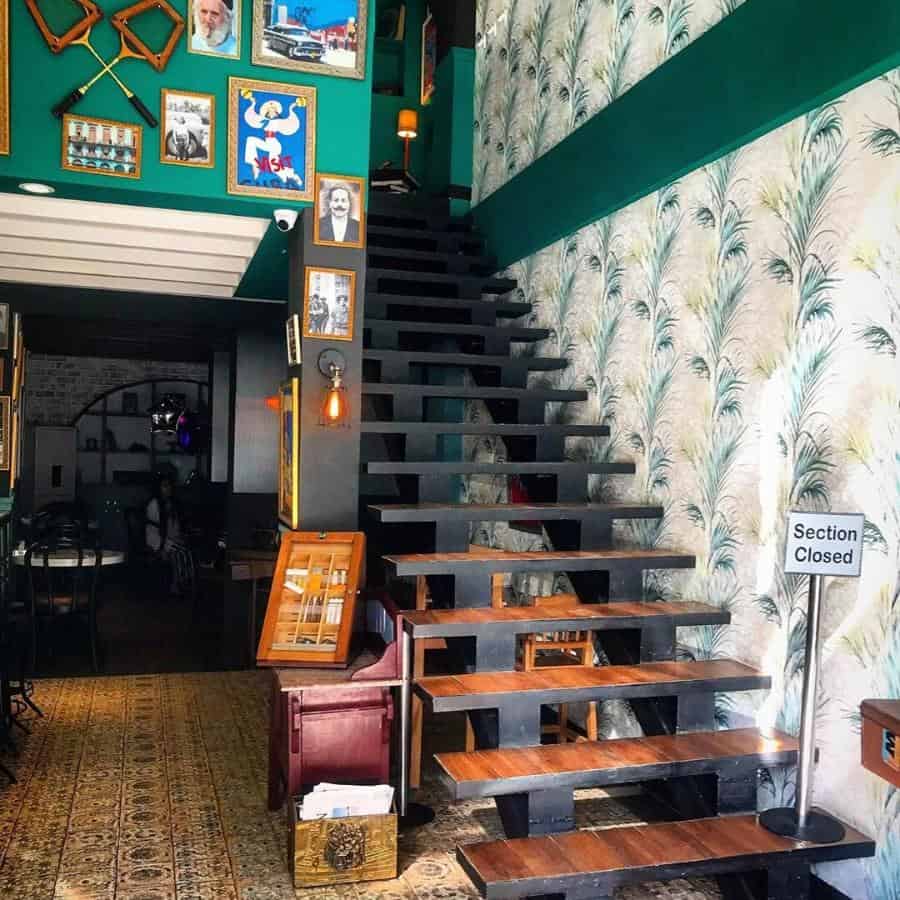 4. Sweet Tooth
Firstly, the bold display of teal and bright yellow, with quirky notes in Urdu and Punjabi on the exterior of this dessert bar, will easily outshine any Instagram filter. Secondly, the mesmerizing architecture, the view from the rooftop is equally exquisite-remnants of Mughal glory can be witnessed in the magnificence of the Badshahi Masjid from afar. One of the most distinguishable impressions of Sweet Tooth is its wildly innovative desserts. From the Belgian chocolate gol gappas to the infamous chocolate burger, the eatery offers desserts that not only satisfy your sweet tooth but also look stunning on your Instagram.
Sweet Tooth MM Alam has such a fun vibe to it, with motorbikes as their chairs for their guests to sit at! If you love a colourful background, take a few crazy selfies and portraits here. But at the same time, don't forget to show your followers the wonderful interior here altogether. And not to forget Sweet Tooth in DHA Phase 6 – it's a whole Alice in Wonderland in real life! With their pretty tea time party interior and crockery also – you'll find yourself in love with all the cute photos you take here for your Instagram.
5. Wasabi Gulberg
Wasabi opened up in Gulberg about 2 years ago, and the place is all the rage for taking some of the best photos there. With a very Japanese contemporary interior and ambience, a photo here in your outfit of neutrals will blow everyone's minds away. The greenery there compliments the grey building work, alongwith the Japanese signature statues. You'll definitely be featuring in those Outfit of the Day pictures soon enough if you click a photo with a background here!
6. Bahria Eiffel Tower
Honestly, who even needs to fly all the way to Paris to view the Eiffel tower and take romantic/aesthetic photos anyway? There are several different towers built around the world that have taken their inspiration from Eiffel Tower, and our very own Bahria Eiffel Tower is no less than all the rest! Take your friend group photos here, or quickly snap yourself from your phone and show the world. Maybe confusing everyone about being in Europe is fun on its own too!
7. Quaid-e-Azam Library
We know, we know…whenever you think of Quaid e Azam Library, you might think of wedding photoshoots. But have you ever considered the fact that those shoots always turn out so beautiful – you might as well consider clicking a few photos for your own Instagram standing in front of the majestic white building in the heart of Lahore? And don't forget maybe taking a peek inside and blessing your feed with the rich cultural interior inside also; you won't regret it.
Image Credit: thespicytravelgirl
8. Jilani Park – "I love Lahore"
The "I LOVE LAHORE" Sign has officially become the ultimate Selfie Point in Lahore! If you're visiting from another city, or live in Lahore and still haven't gone there, well what are you waiting for? Its similar to the TORONTO, I love Amsterdam etc. signs abroad, and we have ours here finally! Go ahead, brighten up your feed and show your followers how much you love your city. Lahore Lahore ay!
9. Peeru's Café
A nice weekend with Qawwalis and scrumptious BBQ…all of this is available at Peeru's Café. But you know why people love it even more? At the back of their restaurant, there's a beautiful hidden small museum…with puppets, and artwork, which is definitely the best place for you to be taking a few photos here and there. The museum will show a rich sense of culture, just make sure you take the right angles and also focus on the showcases puppets! And if you're there on a weekend Qawwali…well the entire ambience will just make you want to Instagram everything.
10. Rangeela Rickshaw
Lahoris put on your Punjabi traditional dresses, and let's head out to the Walled City! Keep a lookout for the Rangeela Rickshaw – a local rickshaw ride painted in truck art is an eye-catcher anywhere. Live your Desi model dreams by enjoying a ride in it, and get your photos taken! The Rangeela Rickshaw is so beautiful – you won't find a place or object more instagrammable than this! You don't want to let your Instagram miss out on this chance.
11. Old Lahore
Travel in that Rangeela Rickshaw and take a ride around Old Lahore…especially the food street! There are so many famous restaurants and Cafes to dine in at – like Andaaz and Coco's Den. But the best thing about them is their rooftops! You can overlook the beautifully built Badshahi Mosque there, which can serve as a wonderful Instagrammable Place for you to be taking your pictures at while enjoying delicious food as well.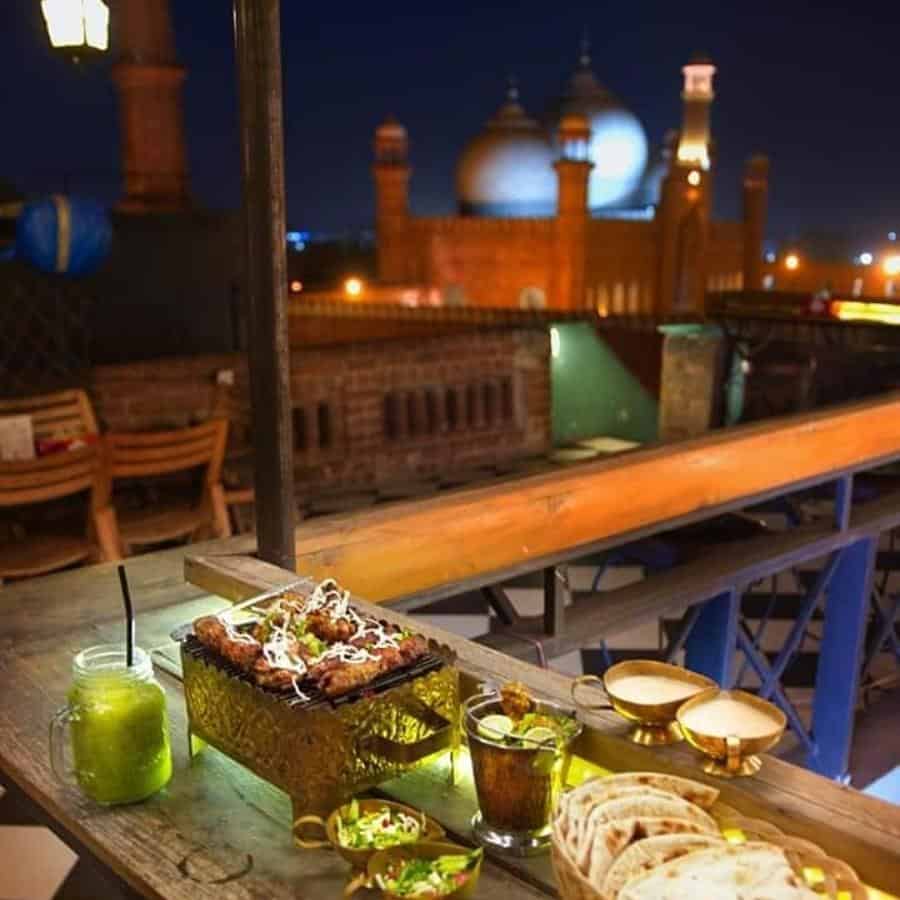 12. Haveli Barood Khana
And while you're at it, perhaps visit Haveli Barood Khana while in the Old City of Lahore also. Haveli Barood Khana is a proper haveli from the olden times, and has recently been a hotspot for university students especially to take some great photos here. If you won't a traditional aesthetic to your Instragram feed, Haveli Barood Khana is the place where you should be taking your photos!
13. Istanbul Square
Let's talk about the newest edition in Lahore's architecture that has been fascinating the locals and the tourists alike. Situated on Anarkali Road, the strategic location of the landmark not only joins old Lahore and new Lahore it is also an intersection of two cultures- Pakistan and Turkey. The real question is, what's so Instagrammable about it? It consists of a dense arrangement of birdhouses punctuated by miniature bushes, and erected on a tall white pool. From afar, it looks like a Giant Birdhouse Tree. Whether you pose in front of it or snap a quick picture from the car, it's worth featuring on your Instagram.
Next time you visit Lahore, do not forget to check out these places. And oh, take tons of photos. And, tag & share with us on Instagram #visitlahore / @visit_lahore.